Meet the Makers
Plan your creative journey through the region to discover the unique products, lovingly crafted right here, and the sources of inspiration for our talented local makers and artists.
By JOANNE MARRIOTT
The rolling hills, tranquil forests and majestic coastline of the Bunbury Geographe region provide inspiration to some of the state's most talented artists and makers. Why not take a creative journey through the studios, galleries and markets to discover the range of the unique handcrafted products on offer? We meet with some local artisans and makers to get a sense of what inspires their work.
Bronwyn Ryan – Candlemaker
Ryan & Co Candlemakers
Bronwyn Ryan has long been fascinated by art, homewares and fragrances so it was no surprise when these converged with the launch of her candle company. The 100% soy candles are handcrafted with the environment in mind. The glass jars are made from recycled wine and beer bottles while the lids are crafted from reclaimed timber. Choose from a range of botanical scents such as lemon-scented gum or wild lavender, or savour the fragrance of your favourite South West destination with the Geographe Breeze or Yallingup Hills. The simple and natural designs can be found in stores around Australia and Singapore but you can pick them up locally at The Pottery Boutique, Acquire Home Living, Good Earth Surf Shop and The Foodey Collective in Bunbury, as well as Lady Marmalade in Kirup and White Stones Gift and Homeware in Collie.
Fliss Brophy – Accessories Designer
Bahru Leather Bags
Fliss Brophy lives with her family on a farm near Peppermint Grove Beach, designing luxury leather bags and accessories. Her grandfather moved to the area in 1936 to farm cattle and Fliss grew up here. These days, the Bahru office is housed in the Old Stables, a beautiful old limestone building dating back to 1850 which Fliss has lovingly renovated into her studio and creative space. Here she designs the Bahru range of stylish and functional bags and delights in perfecting just the right design that works with all the right zips, clips compartments and straps. Having travelled widely and lived in four different countries, Fliss's bags are inspired by different cities around the world. Her range of cuffs, clutches, slouchy totes and oversized shoulder totes can be found at the Emporium of Eshe in Bunbury.
Neil Turner – Woodturner & Artisan
Turner & Turner
Neil Turner grew up in a farming family, experiencing the forces of nature firsthand while working the land. He found refuge in his woodturning workshop and took inspiration from those elements to create natural forms representing the ripples in the soil, the eddies of the river and the swirling flames of fire. After moving to the BunGeo, Neil's work has taken inspiration from the ocean, and his delicate, perforated sculptures have been influenced by the corals and sponges found washed up along our shorelines. Neil holds a deep respect for the timber and the forces that have shaped it. He is passionate about showcasing the beauty of the Western Australian hardwoods and works in a sympathetic way with the timber, allowing the natural features to inform the finished piece. Neil's work includes a range of beautiful sculptures as well as unique, functional pieces such as spoons and spatulas, bowls and dishes, chopping boards and more. Explore the selection available at the Bunbury Regional Art Gallery
Renee Evans – Jewellery Maker
Bowerbird Jewellery
Renee Evans designs delicate jewellery, inspired by both the fragility and strength of nature. She grew up along the BunGeo coast and from an early age has been creating keepsakes and treasures for her family and friends. "My jewellery is inspired by the natural world, wanderings in my garden, exploring and respecting the intricate role each and every part of the natural world have and how they interlace and connect to each other," says Renee. Her pieces include earrings, necklaces, bracelets and rings in 14ct gold and rhodium plated sterling silver, and the designs feature little bees, eucalyptus blossoms and feathers. Get a closer look at the Emporium of Eshe in Bunbury.
Cass Roesner – Photographer and Printer
Alto Imagery
Harvey's Cass Roesner prints her aerial photography of the south west coast on birchwood panels. Inspired by a bird's eye perspective of the landscape on one of her husband's helicopter flights, she developed her images capturing the textures and patterns of the coastline into a stunning collection of memorable prints on circular timber panels. Her UV printing business also works with other artists and photographers across the region to digitally print their images using ultraviolet light, allowing ink to be cured and printed on almost any surface. Contact Alto Imagery directly for the birds eye view range or check out the Eden Grove Art Exhibition in Harvey in early 2020.
Colleen Martin – Jewellery Maker
Colleeni Natural Elements
Colleen Martin captures her love of nature and inspiring landscapes in the form of bespoke jewellery crafted from wood and resin. The colours and contrasts reflect the natural elements of the environment, ranging from the aquamarines and crystal clear waters of the Ningaloo Reef to the deep greens and dappled light of rainforests. Colleen hopes her unique handcrafted designs will provide people with a connection to their favourite Australian landscapes. Find her jewellery at the Harvey Visitor Centre, HaVe Harvey Cheese or at the Bunbury Markets.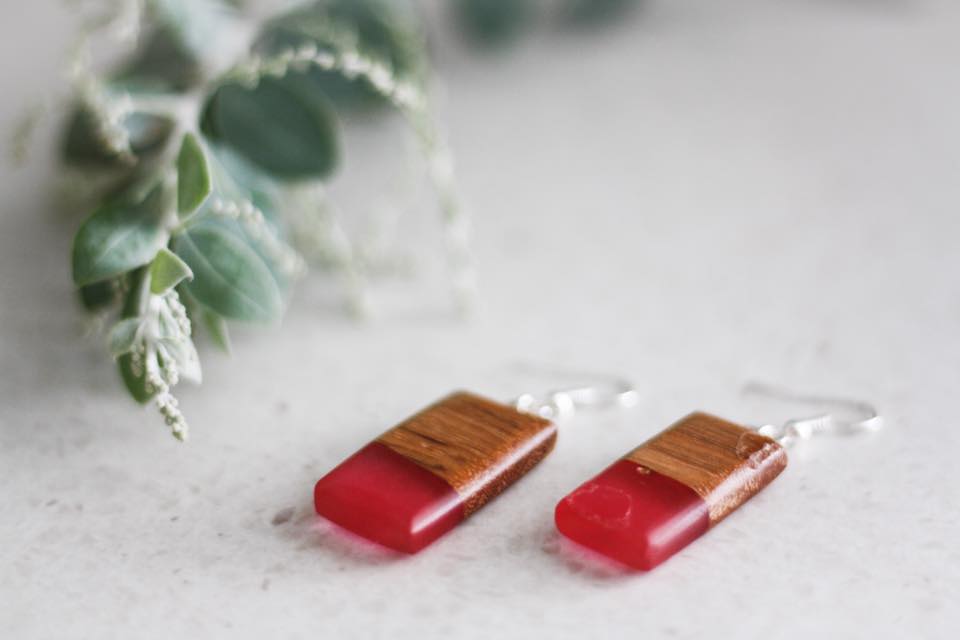 Genevieve Daley – Artist and Seamstress
Unsunk Funk
Genevieve Daley who lives in Bunbury creates quirky, individual items of clothing out of recycled fabrics. She breathes new life into old fabrics by combining together different patterns and textures into fun and original designs. Garments include A-line skirts, bomber jackets, shorts, dresses, playsuits and kids clothing. Find them at Maker & Co in Bunbury.
Find more inspiration in our latest edition of BunGeo FOUND magazine.
BunGeo x