15 Must Dos in Bunbury
---
23 December 2019
15 Must Dos in Bunbury
The new cool-cat in the tourism scene, Bunbury is bursting with must-do adventures.
INCREASE YOUR INTAKE OF ARTS & CULTURE
VISIT VICTORIA STREET

Wander down one of Bunbury's most-loved streets. Victoria Street is known for cute, independent shops, restaurants, small bars and great street-side people watching. For dinner, Market Eating House is a perennial, local favourite and a West Australian Good Food Guide Top 25 Casual Dining Restaurant. Foodies should also venture to the Marlston Hill Waterfront or East Bunbury near the Parade Hotel.
SWIM WITH MAJESTIC WILD DOLPHINS

Koombana Bay is home to a large population of bottlenose dolphins and serves as a resting area and breeding ground. A group of around 100 to 150 dolphins is regularly seen in the bay and surrounding waters. Join the team at the Dolphin Discovery Centre for an intimate swim with wild dolphins in their natural environment. If you're not keen on getting wet, take a 1.5 hour Dolphin Eco Cruise within Koombana Bay or pay a visit to their interpretative centre.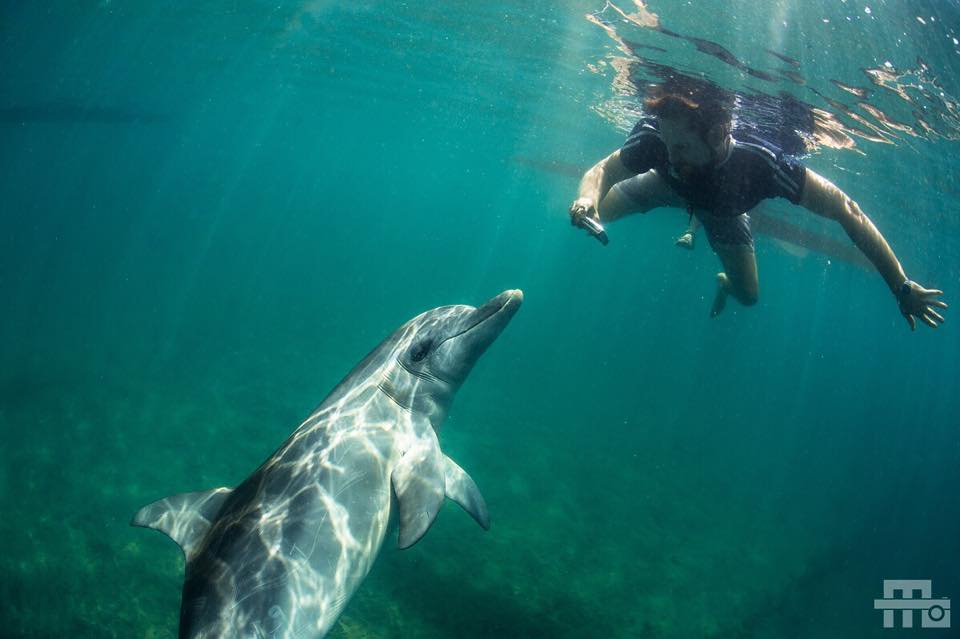 FIND A TREDDLY

The city is eminently manageable by foot, but Bunbury is a great place to explore by bike too. Bunburians love the outdoors so the city has a plethora of walking and bike trails. For an epic ride, take a Fat Bike Beach tour with Melo Velo. Leaving their bike shop come cafe at 5pm, the ride takes you into the beautiful Maidens, around an awesome loop and then back into the CBD along the beach. Bike hire is available at Melo Velo.
DISCOVER THE NEW FACE OF PUBLIC ART

A new majestic sculpture watches over Koombana Bay in Bunbury Geographe. Discover the Wardandi Boodja; a five-and-half-metre steel bust sculpture representing a Noongar face created by local artists Alex and Nicole Mickle of Safehaven Studios alongside design engineer Mike Kimble.  More than a year in the making, the bust commissioned by the City of Bunbury was officially unveiled in February 2019.
BEND THE CREDIT CARD

No visit to BunGeo's capital is complete without a little shopping spree. Go forth and explore the boutiques hidden in old warehouses, down side streets and more. As the South West's shopping capital, you will also find an array of high street shops, department stores and more.
CHASE THE VIEWS

Any itinerary should include the short but steep walk up to the Marlston Hill Lookout. It gives you a 360 view of the City of 3 Waters. Connected to Victoria Street by a timber stairway, it sits on the site of Bunbury's first lighthouse. For a rigorous climb, Boulters Heights between Wittenoom Street and Haig Crescent also offers fabulous city views. The newest vantage-point in Bunbury is the Koombana Park Lookout which overlooks Leschenault Inlet, the Mangrove BoardWalk and Koombana Bay.
SELFIE SNAPS

Snap a selfie-of-the-day in front of our much-loved checkered lighthouse, on top of volcanic lava formed millions of years ago at Wyalup-Rocky Point – it's awesome at sunset, or within the mysterious Paperbarks at Big Swamp Wetlands. Our kangaroos at Bunbury Wildlife Park aren't camera shy either (ED note: we're still working on the dingoes).
FIND A BEACH

The serene Koombana Bay is one of only a few north-facing Australian beaches and with its new foreshore redevelopment its popularity, particularly amongst families is skyrocketing. Our resident dolphins love it too! On the other side of the CDB, Bunbury's Back Beach is the place to go for bodyboarding fun, or for those who like clothing-optional head south to Mindalong.
TIME TRAVEL

The streets of Bunbury's CBD are filled with history and mystery. From a school attended by former WA Premier Sir Newton Moore, the family home of Western Australia's most famous pioneering family, impressive buildings built by a convict's son, 80s inspired Alan Bond architecture, to sacred sites of our Noongar first settlers. Make sure you stop at the Bunbury Museum & Heritage Centre too.
FIND MANGROVES AND MARITIME HISTORY

Bunbury's Mangrove Walk is a truly spectacular way to stretch your legs. The mangroves are a freak occurrence and the southernmost mangroves in Western Australia. Then, continue around the Leschenault Inlet, a serene waterway with a dual-use walkway that winds past the mangroves and toward a restaurant-fringed shoreline. Cross over Koombana Footbridge which celebrates the 13 shipwrecks of Kopmbana Bay. Finish up at the Marlston Waterfront Precinct – see the bust of French Explorer Nicolas Baudin and read about the city's rich maritime history.
GET ON A HIGH

Get on a high with a Scenic Flight. A scenic flight with the Bunbury Aero Club is a guaranteed boast-worthy trip. It's the best way to see the BunGeo, with 30 min or 1-hour options. You can design your own flight plan or, upgrade to a Trail Introductory Flight and learn to fly while you're at it. Adrenaline junkies should try the Warbird Experience and experience the world of radials and aerobatics, piloted by a trained professional flight instructor.
HAVE A WATER ADVENTURE

Set sail for a day on Ocean West Charters – they have a range of options including short bay cruises with the dolphins of Koombana Bay, to weekend holidays. Anchor for lunch, take a swim, or relax on the deck and soak up the sun. Or, join a crew at Koombana Bay Sailing Club for their Wednesday night twilight sail. If a slower pace is more your style, cruise the Koombana Bay on the Dolphin Discovery Eco cruises. Have a truly memorable undersea experience, diving on Lena Ship Wreck with Octopus Garden Dive Charters,  who also offer "See Bunbury from the Sea" cruises.

IMMERSE YOURSELF IN NOONGAR CULTURE

Taste black apples straight from the tree and wash your hands with foaming wattle leaves on a Ngalang Wongi Aboriginal Cultural Tour. Local Noongar Tour guide, Troy Bennell has made sure the tours are in-depth and honour his Indigenous heritage
STOCK UP ON FRESH PRODUCE AT BUNBURY FARMERS MARKETS

This place is legendary; so much so, many Perth 'golden-triangle' residents travel the two-hour drive to shop at the Bunbury Farmers Markets. The produce here – much of it sourced from surrounding farms – is mostly organic and explodes with flavour. Grab gourmet pies, the most amazing local and French cheeses, hand-pressed juices to go, and oh so much more. Alternatively, whet your appetite at a wonderful bi-weekly ode to all things fresh and artisanal at The Bunbury Markets Queens Gardens.